Specifications
Catalogue
Index >> Baby Care&Baby Toys >> Baby Playpen >> Cheap Baby Playpen Wholesale In China Baby Play Yard Baby Fence
Alias
Cheap Baby Playpen Wholesale
Material
HDPE
Brand
MXHAPPY
Package Type
Carton Box
Item No.
MH231
Products Size

Door/Game Panel: 80*60cm

Small Panel: 40*60cm

6+2-Panel: 80*115*60cm 0.68㎡

8+2-Panel: 115*115*60cm 1.3㎡

10+2-Panel: 115*155*60cm 1.72㎡

12+2-Panel: 155*155*60cm 2.25㎡

14+2-Panel: 155*192*60cm 2.85㎡

16+2-Panel: 192*192*60cm 3.6㎡

18+2-Panel: 192*232*60cm 4.4㎡

20+2-Pane: 232*232*60cm 5.3㎡

Carton Size
By orders
G.W.
By orders
Volume
By orders
Standard
EN71
Color
Optional
Application
Bedroom, school, mall, supermarket, farmhouse
Mail packing

Yes
Lead Time
Usually 30 Days
Description
Feature

1. Non-toxic Material & High Stability: Considering the baby's delicate skin and safety, we have carefully selected HDPE materials which are BPA-free and non-toxic. Besides, there are non-slip foot pads and suction cups at the bottom of the fence, which can firmly fix all the panels to the original seat. It will not easily deform or shake.

2. Large Coverage for Baby to Play: In order to effectively use the critical growth period of babies, we specially made this fence with different toys and patterns. Kids can learn to crawl, walk or develop overall motor skills in a safe and spacious activity space.

3. Game Panel & Free Parents' Hands: There are small toys on the game panel, which are beneficial to exercise baby's cognitive ability and sports skills. While giving children space to explore independently, parents also have time to do housework, rest and work.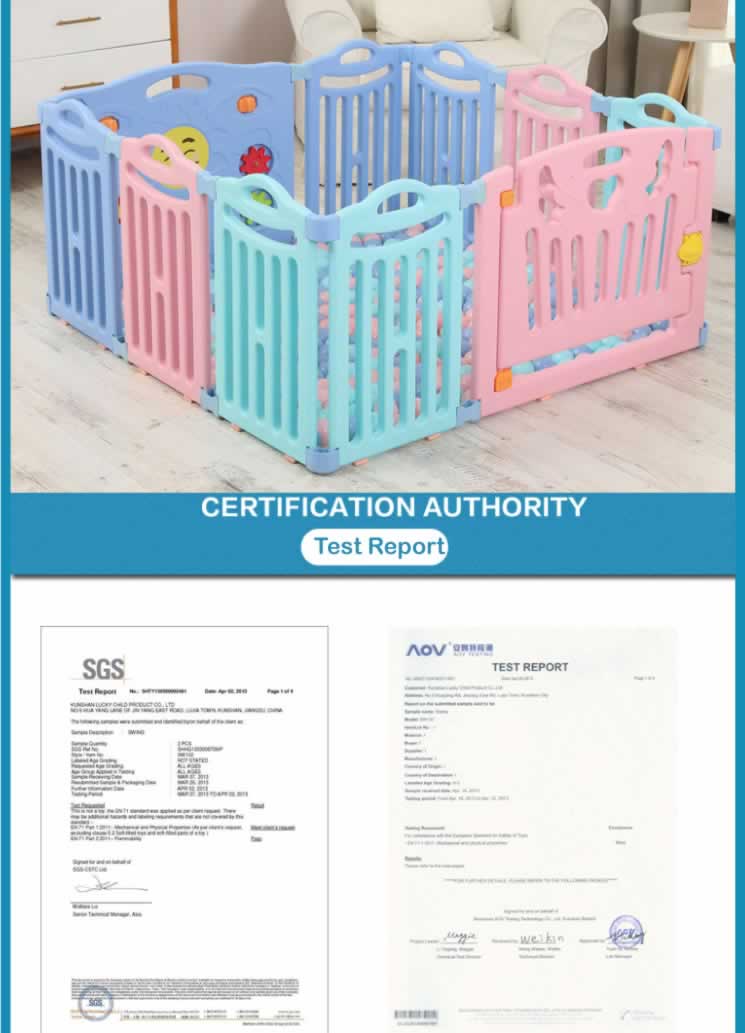 Products Name:

Baby Soft Playmat Baby Playpen Play MatCheap Baby Playpen Wholesale In China Baby Play Yard Baby Fence

Other Name:
Baby Fence ,Baby Play Yard,Playground

Item No.:

MH231
Products Size:
150X150mm

Package Size:

76X24X63cm
Color Option:
Pink, Blue,Green,
MOQ:
50PCS

20GP:

250PCS
40HQ:
590PCS
Default:
Children's fences are also called children's playpens, playpens and children's guardrails, safety guardrails, etc. The current children's fences on the market are mainly made of plastic and wood materials. The main role is to liberate the mother's hands and provide a safe and comfortable environment for 6 months to 3 years old baby. The use of children's fences helps to develop a baby's sense of independence, thinking ability and concentration, while providing a good place for the baby's physical coordination.
Feature:
Cheap Baby Playpen Manufacturer,China Supplier,China factory production for baby playpen