Why should children aged 0-12 choose educational toys?
1. The role of toys
A child's development includes the development of many abilities, such as language, fine motor, gross motor, social-emotional, and cognitive development. When choosing toys and planning learning activities for children, parents can consider that these toys are related to the child's life experience, so as to stimulate the child's development in one dimension and multiple dimensions as much as possible.
1.1 Toys can cultivate children's logical thinking ability
Cognitive development in children involves logical thinking, the ability to process information to help them understand things outside. Toys and games naturally provide many opportunities to exercise logical thinking skills. For example, when adults demonstrate drumming on pots and pans, children are likely to imitate and master the causal relationship of "tapping-sounding"; providing such a play opportunity allows children to practice imitation and experience cause and effect relationships and have fun discovering how the world works.
Toys can help children develop cognitive abilities in life. By playing games like blocks, sand, balls, crayons, children begin to understand logical and scientific thinking, such as causal concepts; they also practice math skills, such as size comparison, classification, counting, sorting, etc. When a child builds a tower with blocks and eventually watches it collapse, it's a physics lesson; the blocks also encourage children to explore different shapes, colors. Enhance hand-eye coordination and cognition of causality through functions such as tapping and keystrokes, and can also stimulate their interest in music.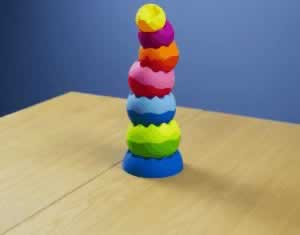 1.2. Toys can improve children's motor ability
Such as pushing, pulling, grasping, pinching, turning and other actions to operate toys.
1.3. Teamwork ability
Toys can help children become more mature psychologically, and also cultivate interpersonal communication and group cooperation ability; however, toys can be divided into open-ended and closed-ended. An open-ended toy means that the gameplay is not fixed, and there are many ways to play. An open-ended toy means that the gameplay is not fixed, and there are many ways to play. Such as simple blocks, dolls, animal toys, balls, small toy cars or toy food. When children play, they can all create some life scenarios, and operate, narrate, familiarize, communicate with others, and even cooperate with each other in these "imaginary" scenarios. On top of that, open-ended toys are more economical! The same building blocks can teach children colors and shapes at the age of 2, while helping to develop fine motor skills and hand-eye coordination; at the age of 4, they can teach children mathematics, physics and science, hand-eye coordination and mutual cooperation.
2. How to choose the right toy
When buying toys for children, focus on quality, not quantity!
Try to let children develop more games and ways to play on a relatively small number of toys!
The study found that with just four toys, they focused more on the toy of their choice and played with it in a variety of ways. This means that the quality of the game is higher when there are only 4 toys in a children's environment!
When choosing a toy for a child, the first thing to do is to ensure safety, and then consider how to better stimulate the child's brain, sensory development, and stimulate the imagination.
Children's toys are divided into different age groups. For example, babies aged 0-1 need a lot of sensory stimulation, while children aged 3-6 like to play with some building blocks and role-playing toys; while children after the age of 6 can Appropriately add some challenging educational toys.
Principle 1. Open-ended toys/open-ended play that can be played in multiple ways
Children like to disassemble/install, pull out/put back, stack up/tear down. For example, the most common wooden blocks, cardboard boxes, can be used not only to build houses, but also to construct castles, zoos or bridges and so on. Such toys stimulate a child's imagination and help develop problem-solving and logical thinking skills.
Even if some are closed toys, such as toy cars and bulldozers, if parents can use these toys to create some scenes with their children to role-play, it is also an open-ended play.
Principle 2. Toys that can be played from childhood to adulthood
For example, in a toy kitchen, when you are 1 or 2 years old, you can gradually recognize what faucets, microwave ovens, vegetables, and fruits are; when you are 3 or 4 years old, you can create scenes with parents and friends and play "pretend" games.
Principle 3. Choose toys that encourage spatial exploration and problem solving
Toys such as puzzles, shape sorters, blocks, stacking blocks or cups, clay, crayons or plasticine, not only work on children's hand-eye coordination and fine motor skills (using the small muscles in the hands and fingers), but also help children develop space Relationship Skills (understanding how things fit together).
Principle 4. Toys that stimulate the imagination of children
Building blocks and pretend toys, wooden train tracks, and more, allow children to design the scene.
Principle 5. Toys that allow children to exercise more
Balls of different shapes and sizes, tricycles or scooters (with proper protective gear), kid-sized basketball hoops, push-pull toys, etc.
Principle 6. Toys that can be played with adults
Board games encourage counting, matching, and memory. They can also teach children to obey the rules. During the game, they can also develop language skills and build a good parent-child relationship.